Podcast: Play in new window | Download (Duration: 1:26:42 — 79.4MB)
A regular episode this week! We open the show with Justin Bieber Hour! Then rapidfire news about chicken Jesus, anuses, and molly!
We head to Paranormal.About.com, to read true ghost stories compiled by Stephen Wagner!
Then we conclude the show with an edition of Tech Talk!
Jesus Chicken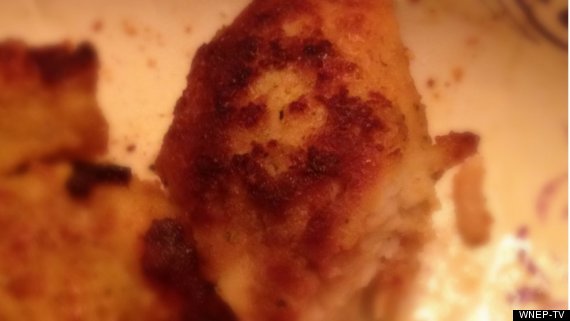 Justin Bieber Hour
Antoine Dodson — I WANT TO FIGHT JUSTIN BIEBER
Selena Gomez Wanted Justin Bieber To Know About David Henrie Date
Justin Bieber — I'm on a Mission … Like an Actual Religious Mission
Justin Bieber Unfollowed Selena Gomez On Instagram
Justin Bieber's childhood home is for sale
Japan's levitating train travels 300 mph and just carried its first passengers
Ernesto Hernandez Almost Eats Chicken Breast That Resembles Jesus
WTF: Guy Trying To Vacuum His Farts Vacuums His Anus By Accident
Not Feeling Sexy? Try Frogs in a Blender!
Bad Molly Trip Makes Man Steal Ambulance And Jerk Off In Police Station
Terrifying Face in the Window
Ghost on the Baby Monitor
#1 skateboarder Tony Hawk test-rides first real hoverboard (VIDEO)
Could POOP soon power smartphones? Natural process found in bacteria in feces could be used to improve 'bio batteries'
Music
Laura Welsh – Break the Fall (Gemini Remix)
Crywolf – Eyes Half Closed
Kasbo – Reaching
Phoenix Shadow & The Painted Pianos – Shadows
Razihel – Skybreaker
ZHU – Faded (M4SONIC Remix)